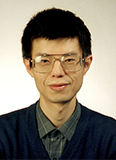 Prof. Qingsheng Zeng
Nanjing University of Aeronautics and Astronautics
Qingsheng Zeng received his Ph.D. from University of Ottawa, Canada, and is currently a distinguished professor and PhD advisor of Nanjing University of Aeronautics and Astronautics (NUAA), an adjunct professor and PhD advisor of University of Ottawa, Carleton University, Université du Québec an Outaouais (UQO), and Institut National de la Recherche Scientifique -- Centre Energie, Matériaux et Télécommunications (INRS-EMT), a guest professor of Harbin Engineering University (HEU), Northwestern Polytechnic University (NWPU), Beijing University of Post and Telecommunications (BUPT) and Beijing Jiaotong University (BJTU). He has been a research engineer and a senior research engineer at Communications Research Centre Canada (CRC), Government of Canada. Dr. Zeng has undertaken research and teaching in several fields, including antenna analysis and design, electromagnetic compatibility and interference (EMC/EMI), ultra wideband technology, radio wave propagation, computational electromagnetics.
He is the Chair of AP (Antennas and Propagation) / MTT (Microwave Theory and Techniques) Joint Chapter and Secretary of EMC (Electromagnetic Compatibility) Chapter of IEEE Ottawa, a Member of IEEE Canada Industry Relations Committee, and a senior member of IEEE. Dr. Zeng has been a member of the Strategic Projects Grant (SPG) Selection Panel (Information and Communications Technologies B) for the Natural Sciences and Engineering Research Council of Canada (NSERC), a member of Site Visit Committee of NSERC Industrial Research Chair (IRC), and a reviewer of NSERC Industrial R&D Fellowships.
Prof. Bo Ai
IEEE Fellow,Beijing Jiaotong University
Professor Ai is a national Outstanding Youth, Excellent Youth, Newton Senior Scholar Fund, "National Science and Technology Talents Program", "Qiushi Outstanding Youth Award" of China Association for Science and Technology; "Outstanding Young Scholar of China Engineering Frontier", Chinese Academy of Engineering. Currently, he is Chairman of IEEE BTS Xi 'an Branch, Vice Chairman of IEEE VTS Beijing Branch, distinguished lecturer of IEEE VTS, member of Chinese Electronics Society, member of Chinese Communication Society, supervisor of Chinese Communication Society Supervisory Board, and expert of National 6G General Group.
He has published more than 150 papers in IEEE journals, more than 11,000 academic citations in Google, and 13 paper awards from IEEE Globecom and other international conferences. It has obtained 32 authorized invention patents; It has won 9 provincial and ministerial science and technology awards. The research results have been included in five national industry standards, and the results have been applied to Beijing-Shanghai high-speed railways and the construction of over 100 railway lines covering more than 30,000 kilometers.